- ECONOMIC IMPACT -
Economists and institutions have cut their forecasts and experts are predicting the potential onset of recessionary environments.
The Eurozone reported record price deflation for the first time since 2016 (1 September). Dun & Bradstreet believes the global economy is unlikely to reach pre-pandemic level output before 2022 (7 September).
Fitch Ratings revised its 2020 forecast for global economic growth to -4.4% from the earlier estimated -4.6% (7 September).
The German economy contracted by a record 9.7% in the second quarter, according to the German statistics office (25 August).
Impact of Covid-19 on employment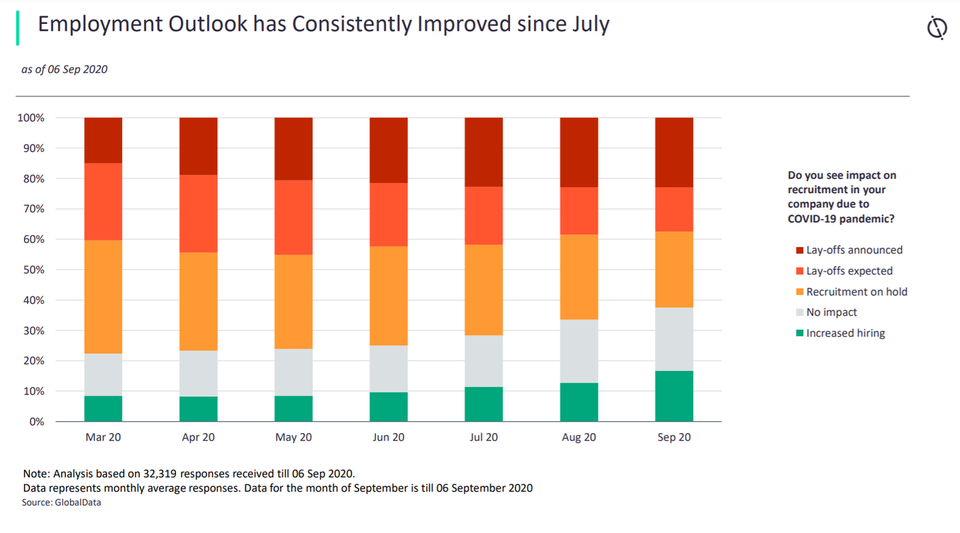 - SECTOR IMPACT: TRAVEL AND TOURISM -
decrease in airline revenues
Airlines continue to struggle. Delta registered a $3.9bn adjusted pre-tax loss for the June quarter as revenues fell by more than $11bn compared to last year.
Job losses are being announced with increasing regularity. Hays Travel has put 900 jobs at risk, while STA's demise is expected to cost 500 jobs in the UK.
Swissport, Menzies Aviation, WFS and dnata have all warned of potential job cuts as airports continue to see reduced traffic and the airline industry awaits 1 October with bated breath as terms forbidding job cuts attached to Coronavirus Aid, Relief and Economic Security (CARES) Act funding expire.
Other industry developments
The travel and tourism industry has so far not seen the kind of turnaround it was hoping for in the early stages of H2. The busy holiday period initially offered great hope, but confusion over ever-changing travel corridors and increasing infection rates in Europe have checked momentum.
Airlines had originally started to increase capacity, but in light of reduced demand, Ryanair has announced it is scaling back capacity in September and October. easyJet has pulled out of three UK hubs, while Southwest airlines has announced a significant pullback of flights in October.
The recent surge in new cases in Europe has led to significant changes with regards to travel corridors and the UK's decision to impose quarantine on arrivals from Spain, France and Croatia has heaped more pain on operators.
Despite all the gloom surrounding the industry at present, Airbnb last week submitted a draft registration to the Securities and Exchange Commission for an initial public offering. Many are predicting a blockbuster IPO as the short-term rental market bounces back quicker than traditional hotels thanks to its natural lean towards social distancing.