There are still lingering questions over rail's impact on air quality
UK rail: a major source of emissions?
Like elsewhere, transport as a whole is a significant driver of air pollution in the UK, but rail represents only a tiny sliver of the bigger picture, accounting for around 4% of the sector's total NOx emissions and 2% of its PM emissions.
Nevertheless, there are still lingering questions over rail's impact on air quality and how this can be best addressed. Being a minor emitter on the national scale doesn't mean there won't be significant air quality impacts in specific areas – inside large, urban rail stations, for example.
"Although rail's overall contribution is small on a national scale, it is unclear how this varies locally," notes the UK railway sector's new Air Quality Strategic Framework. The document, which was published in June by the industry's Rail Safety and Standards Board (RSSB), is a collaborative effort to lay out a sector-wide response to air quality concerns, with a commitment to report on progress every year.

The framework has themed its recommendations around three areas: modelling to understand local risks; mitigating to reduce emissions; and monitoring to better track air quality and emissions reduction.
As Rail Freight Group director general Maggie Simpson acknowledged in a statement last month, the report was appropriately timed with the Covid-19 pandemic and the national lockdown measures that had the knock-on effect of dramatically improving global air quality.
"The public's appetite for improving air quality is only likely to increase following the reduction in air pollution during the coronavirus crisis," Simpson said. "The Rail Freight Group has been pleased to be involved in the timely development of this new strategic framework to help the sector improve air quality."
Common sources of air pollution in rail
Diesel engines are responsible for the lion's share of the transport sector's total NOx emissions, and with 28% of the UK's rolling stock (and 90% of traction in rail freight) diesel-powered, this exhaust unsurprisingly tops the list of the industry's impacts on air quality. RSSB's framework also acknowledges that "approximately 40% of all diesel engines used for traction on the GB railway are not certified to any emissions standard".
Exhaust from other sources, such as maintenance works, back-up generators and transport of materials, are another important contributor to diesel (and therefore NOx) emissions on the rail network, and the report also highlights the many road and industrial vehicles used every day, the emissions of which "need to be considered".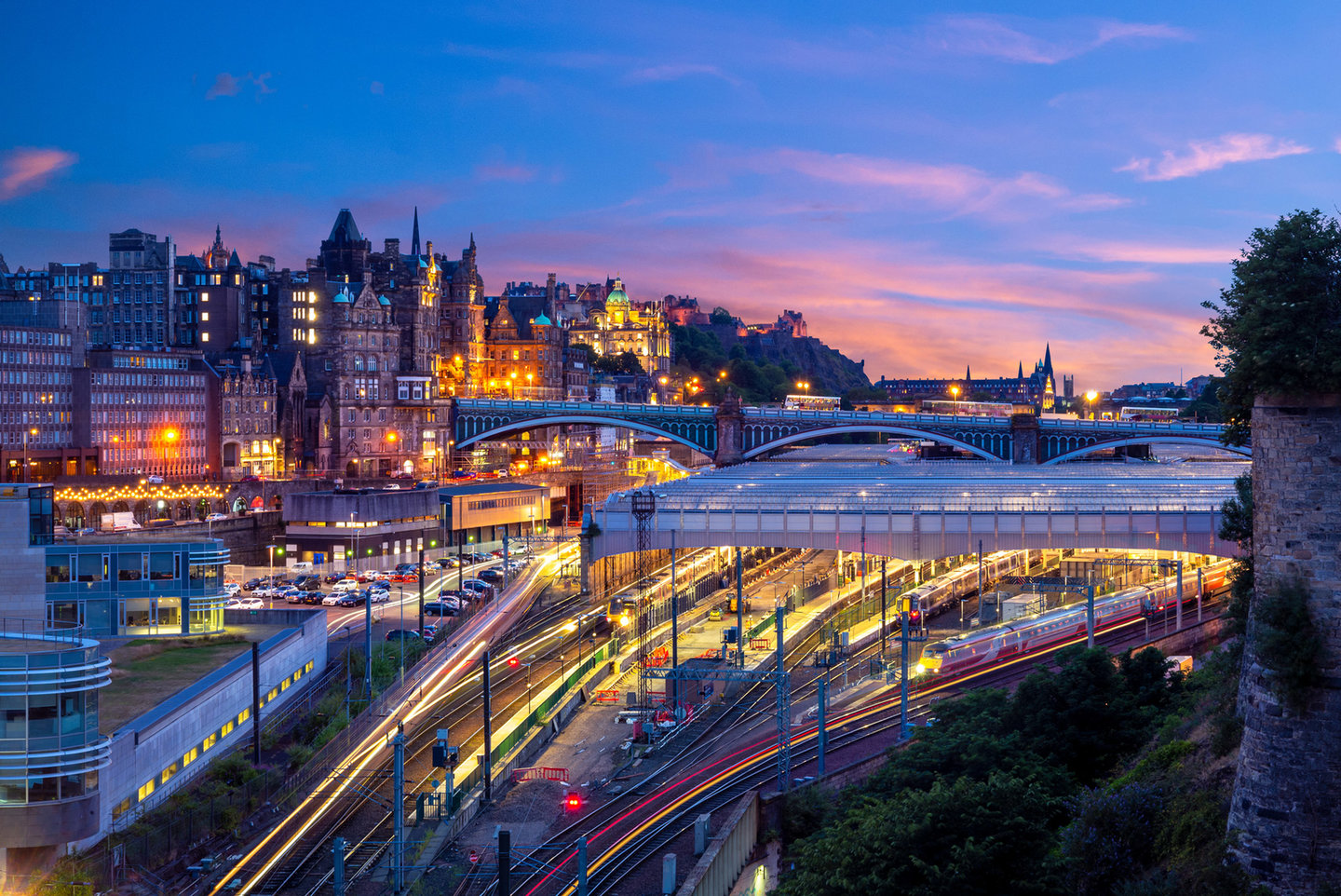 Edinburgh Waverley station in Edinburgh, Scotland.
When it comes to PM, a surprisingly prominent source of emissions is mechanical wear and abrasion, such as the friction between a train's wheels and the tracks, or between the wheels and brakes. This type of abrasive energy on the road is responsible for 55% of the UK's total transport PM2.5 emissions, compared to just 16% from passenger car exhausts, according to the National Atmospheric Emissions Inventory.
As for rail, the industry has some work to do to find out exactly how serious these abrasive emissions are, and how they disperse through the environment.
"These emissions are produced by both diesel and electric trains, but little information currently exists about the relative contribution of abrasive emissions from the rail sector," notes the framework, adding that RSSB is currently conducting research to better understand the relative size and dispersal of these particles.
When it comes to PM, a surprisingly prominent source of emissions is mechanical wear and abrasion
The UK rail industry is funding several research projects to better model and monitor emissions at stations
Stations: a key point of impact for air pollution
As large, densely populated and enclosed facilities with constant exposure to alighting and departing trains, it follows that urban rail stations are a key point of concern as the industry turns its attention to air quality. But until recently, few studies had attempted to properly model local air quality inside these hubs. In the last several years, RSSB has funded more extensive research at Birmingham New Street and, more recently London King's Cross and Edinburgh Waverley.
All of these stations, to varying degrees, were found to have elevated levels of NOx and PM inside their main concourses, when compared to the atmosphere on the surrounding streets. Dr David Green of King's College London's Aerosol Science Team, who led the RSSB's studies at King's Cross and Edinburgh, noted the complexities of pollutant modelling in a recent interview with Railway Technology.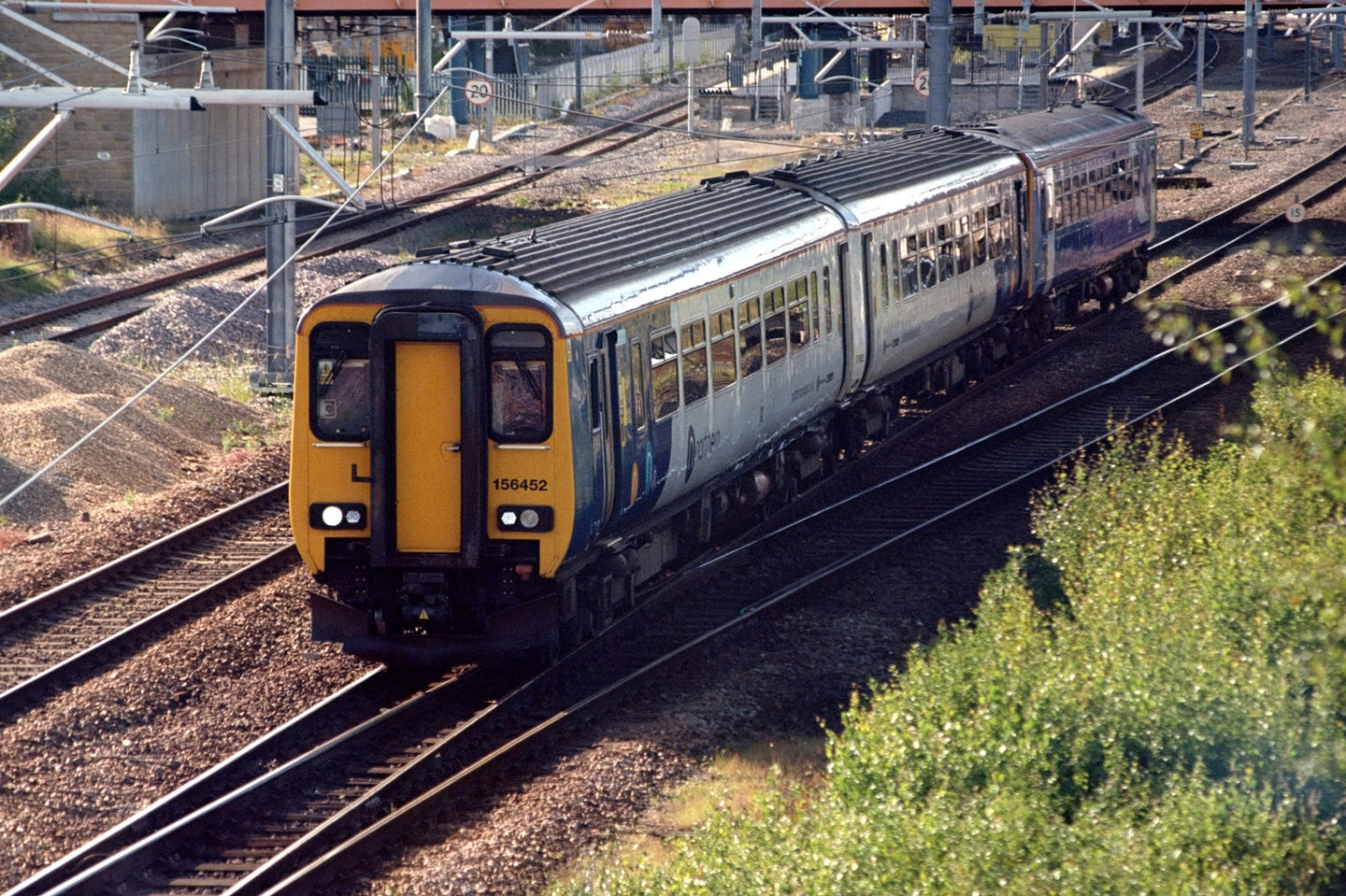 A Northern Rail passenger train in June 2020. Image: Zhao Zheming | Shutterstock.com
"I think it's really important to understand that complexity," said Green. "If you don't understand the sources that are contributing to the concentrations at the station, you can't develop management or policy tools to reduce the concentrations."
As outlined in the strategic framework, the UK rail industry is funding several research projects to better model and monitor emissions at stations and across the network. RSSB has commissioned a project called Rail Emissions and Air Quality Mapping to better understand local variations in rail emissions and to create an online mapping tool identifying emissions hotspots.

The sector also has plans to begin monitoring of key stations and depots to measure emissions concentrations, so rail operators and infrastructure managers at least have a baseline against which to measure improvements.
Mitigation efforts: present and future
The strategic framework document lays out the industry's current efforts to reduce air pollution across the network, as well as options for the future. Improvements in station design have helped reduce pollutant concentrations in some cases, such as at Birmingham New Street after a study revealed high concentrations of NOx around the platform areas.
Network Rail commissioned a new ventilation system for the station, which activates 98 fans to circulate the air based on real-time NOx sensor readings, while focus group meetings with train operators have brought reductions in train idling time.
Nevertheless, the framework notes that "it is generally accepted that it is better to reduce or eliminate the emissions at source rather than dealing with them once they are diluted in local air".
Wider electrification of the rail network is a slow and ongoing process (38% of the network is currently electrified), but in the meantime, new rolling stock with cleaner engines, including bi-mode trains that can switch between electric and diesel modes, such as the Hitachi Class 80x and the Stadler Class 755.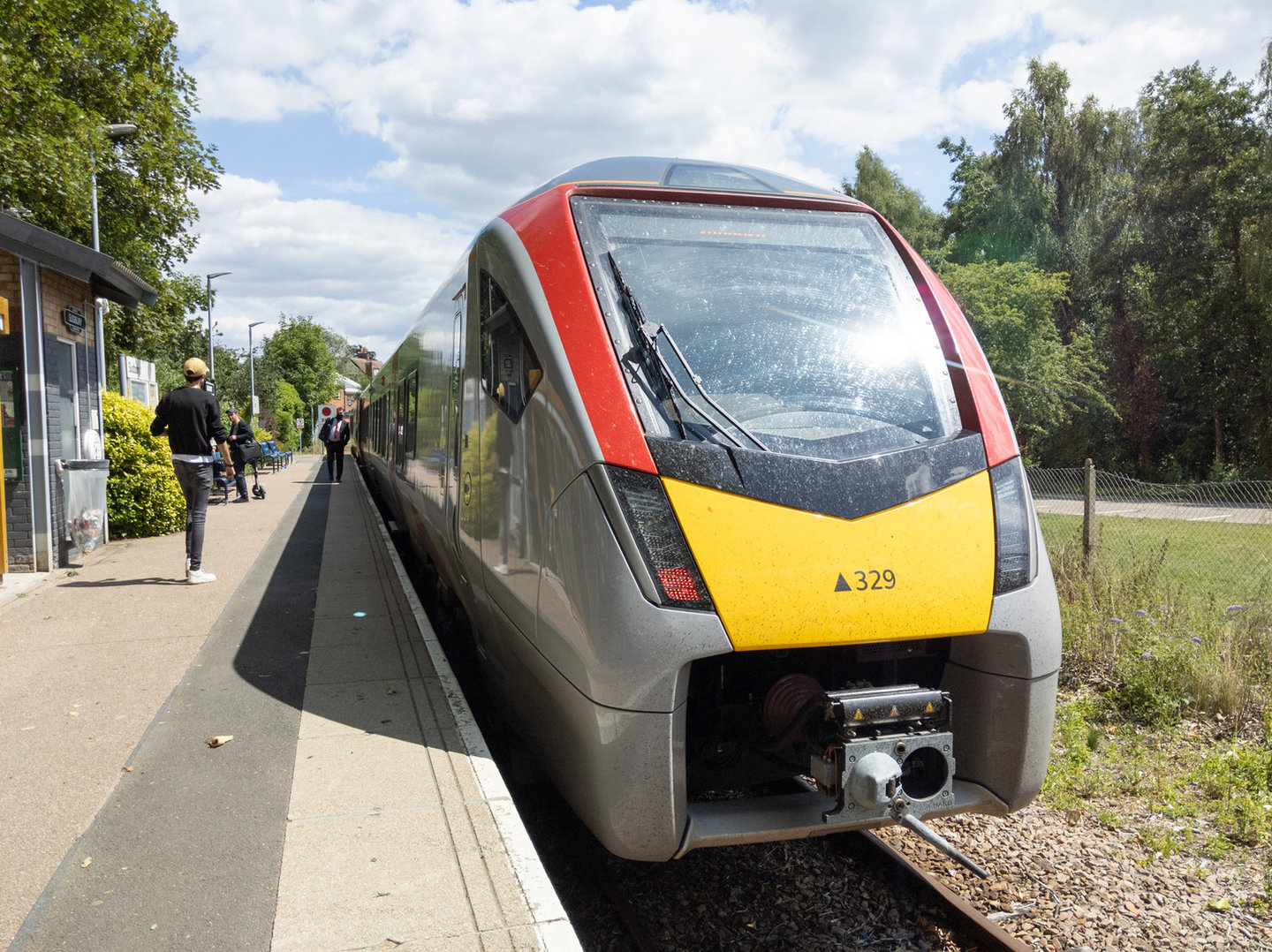 A Greater Anglia Class 755 train. Image: J M Ritchie | Shutterstock.com
'Stop-start' systems that allow trains to automatically cut the engine when idling at the platform are already in use on the UK rail network, predominantly on Class 66 freight locomotives, which have reported an estimated 50% reduction of idling-associated emissions while in service. The technology is currently better suited to freight trains, as passenger trains often need to keep their engines on to power onboard electrical systems.
Low-sulphur fuel, which was adopted by the industry around 2009, also reduces the sulphur dioxide and PM emissions from engine exhaust and brings an added benefit to NOx after-treatment systems, which can be hampered by sulphur compounds in exhaust.
Exhaust after-treatment systems are one of the methods that could have a high impact on rail emissions in the future, according to a 2019 RSSB feasibility study on air quality improvement measures. The research also recommended reducing diesel on-time or on-power-time through measures such as selective engine shutdown, powertrain hybridisation and stop-start tech.
On the issue of PM emissions from mechanical abrasion, the report noted the growing use of electrically regenerating brakes in UK rail, which in the future "may significantly reduce or eliminate abrasive emissions associated with mechanical braking systems and provide significant energy efficiency improvements".
Low-sulphur fuel reduces the sulphur dioxide and PM emissions from engine exhaust
The Air Quality Strategy Framework is a transparent step in the right direction for [the] industry
Completing the picture on rail air quality
But there is still a great deal of data to gather to paint the full picture of UK rail's impact on air quality and the potential health ramifications for staff and passengers. The industry's Clean Air Research Programme (CLEAR) is aiming to fill in many of these gaps, with three main workstreams covering modelling, mitigation and monitoring.
Modelling and monitoring of pollutant concentration at stations and depots, as well as things like local variations and traction emissions rates, will help the sector to better understand its own emission sources and how best to mitigate them.
The framework does acknowledge the potential impact of the long-awaited Williams Rail Review, the conclusions of which are expected this year and could fundamentally alter the structure of the UK rail industry.
"The development of any new industry structure will be taken into consideration to ensure the recommendations of the review and the end vision of the strategic framework can be realised," the framework notes. "On the publication of the review findings, the process will start to set air quality targets and establish clearer roles and responsibilities."
While setting these roles and responsibilities is vital to make sure the commitments laid out in the strategic framework stick, the document at the very least brings the industry together to agree on common standards and mitigation strategies – a strong foundation for the future.
"There is still a great deal that remains unclear," said RSSB's head of sustainable development Anthony Perret in June. "However, the Air Quality Strategy Framework is a transparent step in the right direction for [the] industry and I am excited to see what results we will be able to share in just over a year."