A Rail Solutions Partnership Unlike Any Other
Since 1808 GHH-BONATRANS has been involved in wheelset making. for more than two centuries we have developed an extremely high level of expertise which makes us capable of reacting to any challenges or requirements for wheelset solutions such as mitigation. This could never be possible without an innovative soul and a focus on systematic research.
H
olland LP is a dedicated engineering-driven company that excels at developing partnerships with its customers to deliver comprehensive and progressive solutions for the railroad and related industries. Headquartered in the US, Holland is the premiere provider of flash-butt welding technology across the globe with equipment operating in over 35 countries.
Holland's Railway Measurement Systems & Services (RMSS) business unit is the North American industry leader in Track Geometry Testing Services with over 20 years of experience. ArgusTM Track Geometry/Profile Testing Systems combined with Holland's Rangecam Track/Tie Replacement Planning Services currently process data for approximately 100,000 miles of track a year. With autonomous testing on the horizon, Holland's exChaingeTM asset intelligence platform will provide web based online maintenance planning and provide the data intelligibility needed to increase the value of every mile of track tested.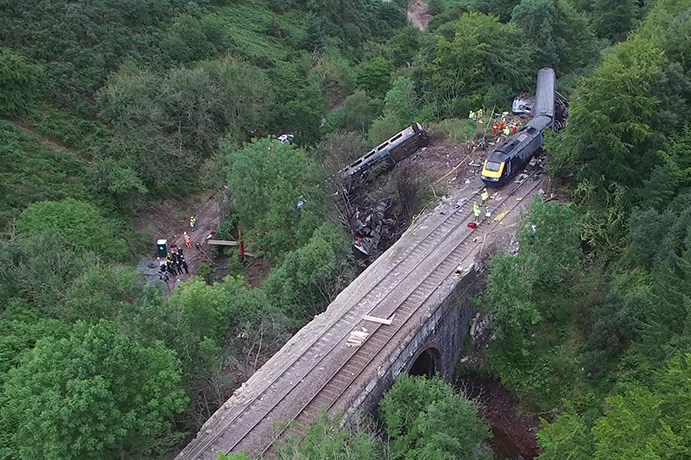 Aerial view of the derailment. Image: UK Government
Why Plan Safe?
With over a decade of experience in the development of complex and high-risk infrastructure, we bring together extensive project, communication and safety methodology to deliver safe rail operations to workers and users.
Our Plan Safe consultants have delivered safety assurance programs for some of Australia's most recent rail projects – including the Waratah ETCS upgrade in Sydney CBD - and offer a profound understanding of the needs and complexities inherent in the design, build and implementation of transport infrastructure.
We will work closely with your team, stakeholders, Independent Safety Assessors, clients, government bodies, unions and regulators to meet the assurance, accreditation, risk and training requirements of all parties.
Partnerships
GHH-BONATRANS designs, manufactures and supplies complete noise absorbing systems specifically aimed for different market segments of rail passenger transportation (urban, suburban and inter-city).
Our core values of family, respect, partnership, integrity and improvement provide the foundation for everything we do. For our partners, this means we deliver our commitments to safety: striving towards zero injuries and accidents; quality: providing quality products and services and continually looking for ways to improve; and leadership: developing industry leading technology and employees.
Holland is dedicated to creating partnerships with our clients. This commitment begins with the initial contact, continues throughout the purchasing of equipment and beyond with service and support.
GHH-BONATRANS designs, manufactures and supplies complete noise absorbing systems specifically aimed for different market segments of rail passenger transportation (urban, suburban and inter-city).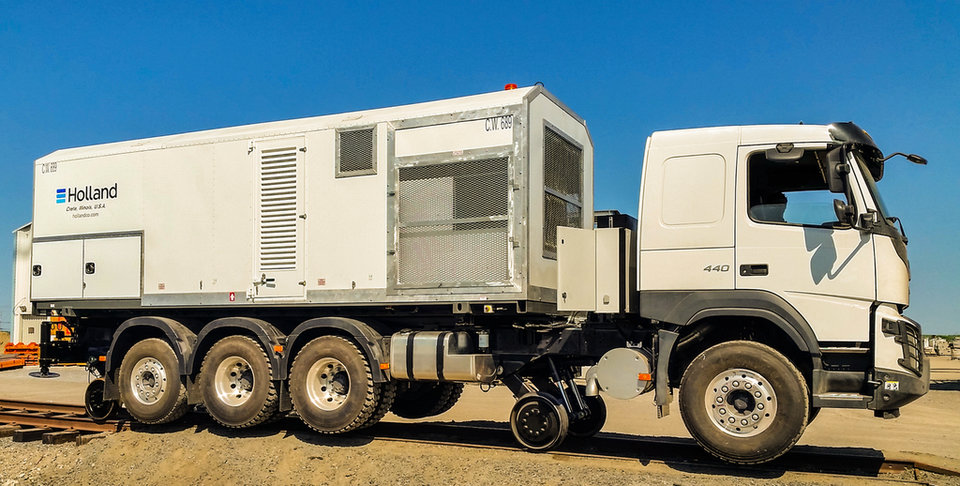 Safety assurance for onboard signalling and safety systems including ETCS and CBTC
Pre-Sale Assistance
Holland will explore your company's specific needs including your unique application, environmental or certification requirements. Training and support needs are analyzed to ensure your solution is the right fit and within your budget.
Continued Post-Sale Support
Holland's commitment doesn't stop once the first weld is made. We continue to provide you with training, operator certifications, parts and maintenance support. Replacement parts are inventoried and normally ready to ship within one business day.
Welding
As railways across the world continue to expand both passenger and freight capacity, railways are faced with the need for even greater track utilization and extended rail life, thus further reducing the available track time for track maintenance. This puts even greater demands on the railway and railway contractor to find ways to increase worker and equipment safety and efficiency and reduce track possession time. Holland's welding solutions all you to get the job done quickly, safely and with unmatched quality.
Flash-Butt Container Welder
Our Container Welder supplies the complete welding package, including a power unit and welding machine manipulator, in a compact and efficient configuration. It can be used as a stationary welding machine to generate long welded rail sections, or on a customer supplied mobile carrier to deliver in-track welds.
Flash-Butt MobileWelder
Our MobileWelder was first introduced to the industry and pioneered by Holland in 1979. This versatile flash-butt welding machine is a virtual mobile welding plant that can travel both on the rail and on the highway and is easily relocated from one job site to another.
All-Terrain MobileWelder®
While the flash-butt weld is an important part of extending rail life, the effectiveness of the delivery of the machine to the weld location is a critical component in reducing the work window and track occupancy to meet the growth requirements of the railways.
That requires machines that are able to:
Access track with small of no road crossings
Convert from road-to-rail and rail-to-road quickly
Work from rough sidings alongside track
Perform work on adjacent tracks in extended reach applications
Maintain stability in extended reach applications
Work within clearance restrictions from overhead lines, third rail and adjacent track
Perform reliably, consistently and safely
The latest technology in road/rail flash-butt welding machines to address these requirements is the All-Terrain MobileWelder (ATMW). Mounted on an excavator base, the ATMW is designed to convert from road-to-rail quickly and gain track access from smaller crossings and level access locations, provide increased mobility on track, reach and work on adjacent tracks, work from alongside of the track, and work within track/tunnel clearance envelopes.
The development of the ATMW was undertaken in cooperation with several railways and railway contractors in different countries. Outfitted with today's advanced welding machines, quality control software, diagnostic tools, hi-rail designs, stability controls and more; the ATMW has proven to be a successful piece of track maintenance equipment serving railways in the UK, Eurasia, Australia and the USA in applications ranging from heavy-haul to metros.
Track Testing
Holland's Argus™ revolutionizes the world of track geometry measurement. Full track geometry and optional rail profile measurements are provided in a compact & low power package.
Unlimited applications are realized when you reduce the size, weight, power requirements and packaging while increasing the versatility of geometry measurement technology. Argus™ is ideal for installation on dedicated manned measurement vehicles and can transition seamlessly to autonomous applications, with Hang-On Geometry, TrackSTAR™ Testing Vehicles as well as UGMS configurations.
The design of Argus™ includes redundancy of critical components with automatic switchover. This maximizes system uptime. A failed component doesn't necessarily result in lost data or system downtime. For unattended operation, a fully redundant secondary system is deployed in order to reduce the potential for data loss.
Contact us