- ECONOMIC IMPACT -
India has emerged as the new epicentre for Covid-19, with WHO data indicating that last week India accounted for almost half of all cases, after becoming the second country, behind the US, to record more than 20 million infections.
The total number of Covid-19 vaccine doses administered has now surpassed the total of confirmed cases, with the US hitting 200 million vaccinations faster than any other country. China was the first country to hit 200 million vaccinations, but progress has slowed.
Covid-19 has infected more than 153 million people globally, and has spread to every country
Only a third of employees say they want to go into the office daily after the pandemic
Impact of Covid-19 on Employment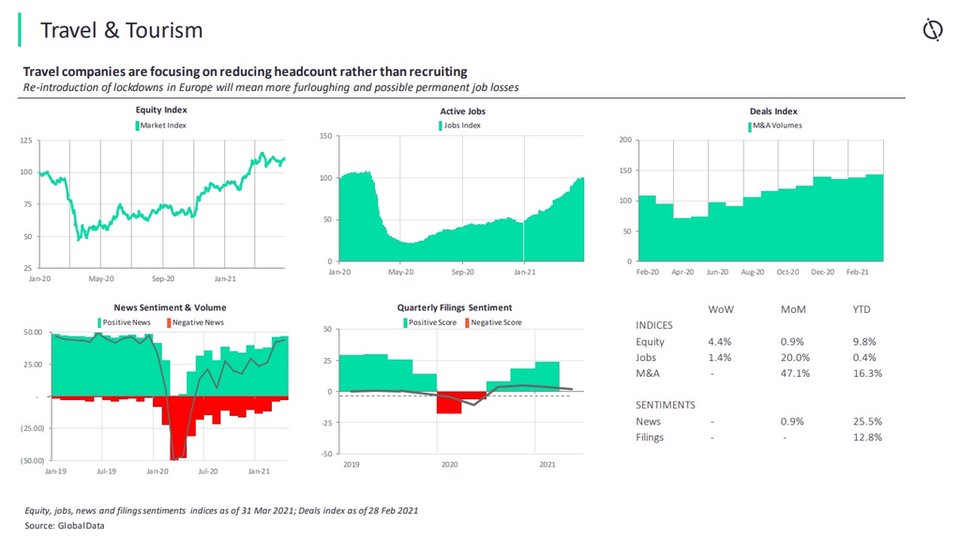 - SECTOR IMPACT: TRAVEL AND TOURISM -
IAG, the owner of British Airways, reported a record £6.3bn ($8.8bn) loss in 2020.
Italy lost out on an astonishing £105bn (€121bn) in travel and tourism last year.
Low tourist demand means many cars rental companies have been forced to sell their fleets in order to stay afloat during the Covid-19 pandemic.
Markets in which airport pickup is the largest channel, such as the US, have particularly suffered, but the effect has been felt all over the world.
But as demand picks up, with more people traveling and supply still down, major price hikes are likely to be in store for anyone who wants to rent a car.
Key Travel And Tourism developments